Lourdes Preparation Evening
Lourdes Preparation Evening
26 February 2019 (by admin)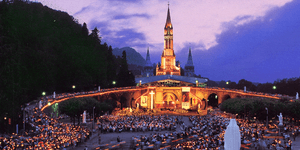 Lourdes Preparation Evening
The current Year 10 Lourdes group met at Immaculate Heart Church for an initial preparation evening ahead of the Leeds Diocesan Pilgrimage to Lourdes this July. The evening began in the Queen's Hall with ice breaker activities and team games. We then broke into smaller groups to discuss what Lourdes is about, why people make a pilgrimage, shared some of our own questions and the things we were looking forward to the most.
The group joined with parishioners of St. John Vianney Parish for their evening celebration of Mass and took an active part by reading and presenting the offertory gifts. Fr Josh explained that by going on pilgrimage we open ourselves up to God to increase our faith and that miracles are pointers towards a life of faith.
After Mass the group met in the Hall to share pizza and continue our discussions in preparation for our pilgrimage to Lourdes 2019.