Our journey to be the first single-use plastic free high school
Our journey to be the first single-use plastic free high school
28 November 2019 (by David Brayshaw (D.Brayshaw))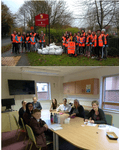 The government has an ambition of stopping schools using single use plastic by 2022 but for now, this is a far dream for many schools. This year Cardinal Heenan are working in partnership with TKMaxx, Homesense, Hubbub and Zero Waste Leeds to reduce or eliminate single-use plastic in school. As no other high school in the UK has managed to eliminate their single-use plastic, we are "Plastic Pioneers".
The Plastic Pioneers campaign is being run at 12 schools across the country and involves working with students, teachers and (hopefully) parents to educate, campaign and change behaviours relating to purchasing and disposing of single-use plastics in and out of school.

Building up to the campaign
This year we have set up both a teacher's Environmental Committee and a student Environmental Committee. The teacher Environmental Committee are a group of teachers interested in assisting with our campaign and meet once or twice a term. The student Environmental Committee meets every Monday and have been working very hard towards this campaign since September. We are extremely proud of the impact these students have already made in such a short time. We anticipate that this group will continue in the coming years and look at wider environmental issues within school, including climate change.

Launching the campaign: education and behaviour change
Last week, we launched our "Plastic Pioneers" campaign in school by displaying metal cages full of plastic bottles. We calculated that 6 of these cages would represent one weeks' worth of single use plastic consumption in school.
Our student Environmental Committee also led assemblies with all year groups introducing our campaign and our ambition to become single-use plastic free. We have asked each form and teacher to make a "plastic pledge", committing themselves to a change which can reduce their individual plastic consumption and, in turn, our collective plastic consumption.
A strong part of this year's campaign will be education, which we hope will lead to behaviour changes relating to plastic consumption and disposal. As part of this, Dan Webb, leader of the charity "Everyday Plastic", carried out a workshop with 4 different classes on Monday. In 2016, Dan Webb collected his own single-use plastic waste for a year and now campaigns in the media and in schools to educate people about their own plastic footprint and what they can do to reduce this.
Action- litter pick
As part of our plastic campaign, we are also seeking to reduce the impact that plastic has on the environment. On Saturday morning the Environmental Committee and some teachers completed a litter pick down Tongue Lane. The volunteers managed to collect around 20 bags of plastics, metals and other materials, which have been dropped along the street or thrown into the school grounds. It was wonderful to see so many young people willing to give up their Saturday morning for an environmental cause. We are hopeful that more litter picks will take place in the future in an effort to help clean up our community.
Consultation- reducing single-use plastic in school
An obvious part of reducing single-use plastic consumption in school is reducing the amount of single-use plastic that we sell in school. We are working with the Canteen and SLT to negotiate a reduction in single-use plastic sales in the Canteen. So far, the Canteen have switched from plastic disposable cutlery to wooden disposable cutlery and plastic cups to paper cups.
Jacob and Alex from the Environmental Committee held a meeting with leaders of our canteen (Caterlink) and our school's facilities management team (Bellrock). It was a very successful meeting and all parties are making considerable efforts to reduce our single use plastic. More updates on this plastic partnership to come.
Moving forwards
The Environmental Committee are working quietly in the background along with Zero Waste Leeds on other ideas to promote behaviour changes leading to reductions in plastic consumption in school. We are anticipating more guest speakers as well as a reusable bottle drive within school.
The Leeds Development Education Centre (DEC) are also going to facilitate a training session, where our teaching staff will discuss environmental objectives across the curriculum.
Cardinal Heenan's Twitter account will be updated regularly to keep track of the Environmental Committee's progress. Please contact our school (info@cardinalheenan.com) if you would like to get involved in our plastic campaign or for any ideas that will help us reach our objective.