Lois for Leeds - and Now The UK!
Lois for Leeds - and Now The UK!
27 February 2020 (by Mark Burton (M.Burton))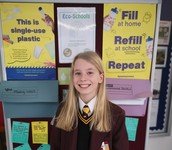 Congratulations to Lois Priestley, one of our amazing year 7 pupils, for being elected as a member of the UK Youth Parliament!
Lois was one of 6 finalists, shortlisted from over 400 applicants, selected for the final voting stages due to their carefully planned manifestos. Lois campaigned with great enthusiasm and passion and with the help of family, friends and the whole Cardinal Heenan community. She set up voting stations in school and delivered her key messages to all year groups in assemblies. She spoke to pupils and staff about her commitment to changing the lives of young people for the better and her determination, poise and confidence shone through and will make her an outstanding advocate for her peers.
Lois will now go on to represent young people across the area, focussing on key issues such as climate change, free transport for young people and mental health. She will meet regularly with the Leeds City Youth Council and will travel to London to take part in meetings that will seek to affect government policy, making the lives of her generation better!
We will keep you up to date with Lois' journey and we wish her every success in this new role!