Jesus' words in John's gospel express the aim of human life as 'human flourishing'. Our purpose in this life is to flourish by seeking to form our character through the pursuit of personal strengths called virtues. These virtues, which are displayed in our school foyer, are faith, hope, love, justice, solidarity, temperance, courage and practical wisdom. Students demonstrate these virtues in many aspects of school, both in and out of lessons and it is important that you reflect upon these regularly.
| Virtue | Demonstrated Through… | Practical Examples |
| --- | --- | --- |
| Faith | Faithfulness | Membership of Chaplaincy Teams, taking part in/leading worship, Faith in Action Award, Lourdes Pilgrimages, Retreats |
| Hope | Prayer, confidence | Careers events, chaplaincy involvement, retreats, ecological actions |
| Love | Charity, hospitality, compassion, forgiveness, friendship, service | Student receptionist, volunteering (DofE), reading leaders, junior librarians, charity involvement, student council, prefects |
| Justice | Honesty, kindness, gratitude, generosity | Student council, charity involvement, prefects, ecology, campaigning |
| Solidarity | Loving your neighbour, respect, responsible citizenship | Sports teams, Faith in Action, teambuilding, enterprise club |
| Temperance | Simplicity, humility, gentleness, self-control, love of learning, sense of humour | Debating society, Shakespeare club, musicianship, sports involvement, achievement point awards, science magazine, creating art |
| Courage | Patience, perseverance, resilience, determination | Sports teams/captains, musicianship, overcoming adversity/illness/bereavement, action planning after receiving your report |
| Practical Wisdom | Reflection, deliberation, discernment | Chess club, careers events, attending extra revision sessions, wider reading around your subjects |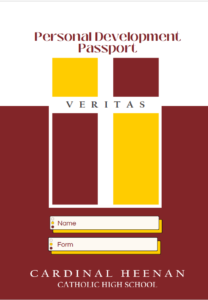 Students have their own Personal Development Passport, and it is a document that supports and promotes individual reflection on all the areas of school life they participate in. Within the Personal Development Passport students reflect on how the participation in activities has help them grow as a person. The reflection often includes thoughts about the students future and how they can draw together experience to help them prepare for the next stage of their education and career.